vtkPolyDataSourceWidget Class Reference
#include <vtkPolyDataSourceWidget.h>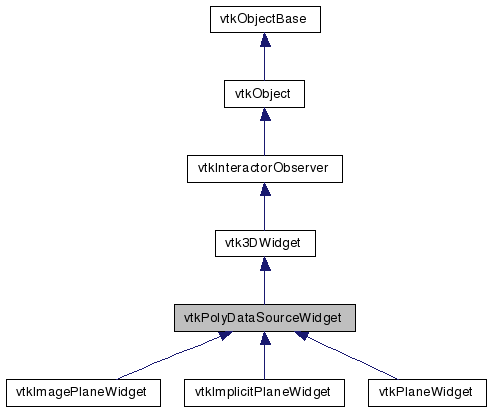 [legend]
[legend]
---
Detailed Description
abstract PolyDataSource-based 3D widget
This abstract class serves as parent to 3D widgets that have simple vtkPolyDataSource instances defining their geometry.
In addition to what is offered by the vtk3DWidget parent, this class makes it possible to manipulate the underlying polydatasource and to PlaceWidget() according to that, instead of having to make use of SetInput() or SetProp3D().
Implementors of child classes HAVE to implement their PlaceWidget(bounds) to check for the existence of Input and Prop3D FIRST. If these don't exist, place according to the underlying PolyDataSource. Child classes also have to imprement UpdatePlacement(), which updates the widget according to the geometry of the underlying PolyDataSource.
Definition at line 44 of file vtkPolyDataSourceWidget.h.
---
Member Typedef Documentation
---
Constructor & Destructor Documentation
| | | | | |
| --- | --- | --- | --- | --- |
| vtkPolyDataSourceWidget::vtkPolyDataSourceWidget | ( | | ) | [protected] |
Empty constructor that calls the parent constructor. Child classes should call this constructor as part of their initialisation.
---
Member Function Documentation
| | | | | |
| --- | --- | --- | --- | --- |
| virtual const char* vtkPolyDataSourceWidget::GetClassName | ( | | ) | [virtual] |
| | | | | | |
| --- | --- | --- | --- | --- | --- |
| static int vtkPolyDataSourceWidget::IsTypeOf | ( | const char * | name | ) | [static] |
| | | | | | |
| --- | --- | --- | --- | --- | --- |
| virtual int vtkPolyDataSourceWidget::IsA | ( | const char * | name | ) | [virtual] |
void vtkPolyDataSourceWidget::PrintSelf
(
ostream &
os,
vtkIndent
indent
)
[virtual]
| | | | | |
| --- | --- | --- | --- | --- |
| virtual void vtkPolyDataSourceWidget::PlaceWidget | ( | | ) | [virtual] |
| | | | | | |
| --- | --- | --- | --- | --- | --- |
| virtual void vtkPolyDataSourceWidget::PlaceWidget | ( | double | bounds[6] | ) | [pure virtual] |
void vtkPolyDataSourceWidget::PlaceWidget
(
double
xmin,
double
xmax,
double
ymin,
double
ymax,
double
zmin,
double
zmax
)
[inline, virtual]
| | | | | |
| --- | --- | --- | --- | --- |
| virtual void vtkPolyDataSourceWidget::UpdatePlacement | ( | | ) | [pure virtual] |
---
The documentation for this class was generated from the following file: