vtkRandomSequence Class Reference
#include <vtkRandomSequence.h>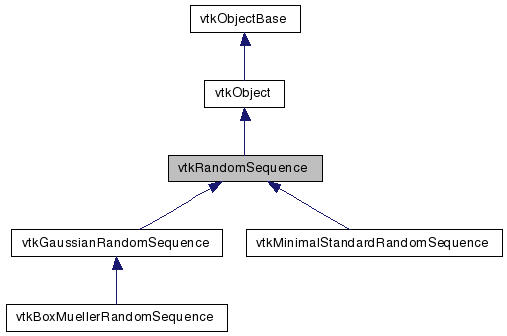 [legend]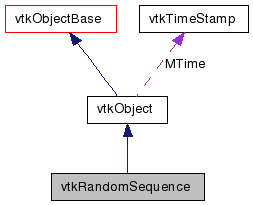 [legend]
---
Detailed Description
Sequence of random numbers.
vtkRandomSequence defines the interface of any sequence of random numbers.
At this level of abstraction, there is no assumption about the distribution of the numbers or about the quality of the sequence of numbers to be statistically independent. There is no assumption about the range of values.
To the question about why a random "sequence" class instead of a random "generator" class or to a random "number" class?, see the OOSC book: "Object-Oriented Software Construction", 2nd Edition, by Bertrand Meyer. chapter 23, "Principles of class design", "Pseudo-random number generators: a design exercise", page 754--755.
Definition at line 36 of file vtkRandomSequence.h.
---
Member Typedef Documentation
---
Constructor & Destructor Documentation
| | | | | |
| --- | --- | --- | --- | --- |
| vtkRandomSequence::vtkRandomSequence | ( | | ) | [protected] |
| | | | | |
| --- | --- | --- | --- | --- |
| virtual vtkRandomSequence::~vtkRandomSequence | ( | | ) | [protected, virtual] |
---
Member Function Documentation
| | | | | |
| --- | --- | --- | --- | --- |
| virtual const char* vtkRandomSequence::GetClassName | ( | | ) | [virtual] |
| | | | | | |
| --- | --- | --- | --- | --- | --- |
| static int vtkRandomSequence::IsTypeOf | ( | const char * | name | ) | [static] |
| | | | | | |
| --- | --- | --- | --- | --- | --- |
| virtual int vtkRandomSequence::IsA | ( | const char * | name | ) | [virtual] |
void vtkRandomSequence::PrintSelf
(
ostream &
os,
vtkIndent
indent
)
[virtual]
| | | | | |
| --- | --- | --- | --- | --- |
| virtual double vtkRandomSequence::GetValue | ( | | ) | [pure virtual] |
| | | | | |
| --- | --- | --- | --- | --- |
| virtual void vtkRandomSequence::Next | ( | | ) | [pure virtual] |
---
The documentation for this class was generated from the following file: