vtkDirectedGraph Class Reference
#include <vtkDirectedGraph.h>
[legend]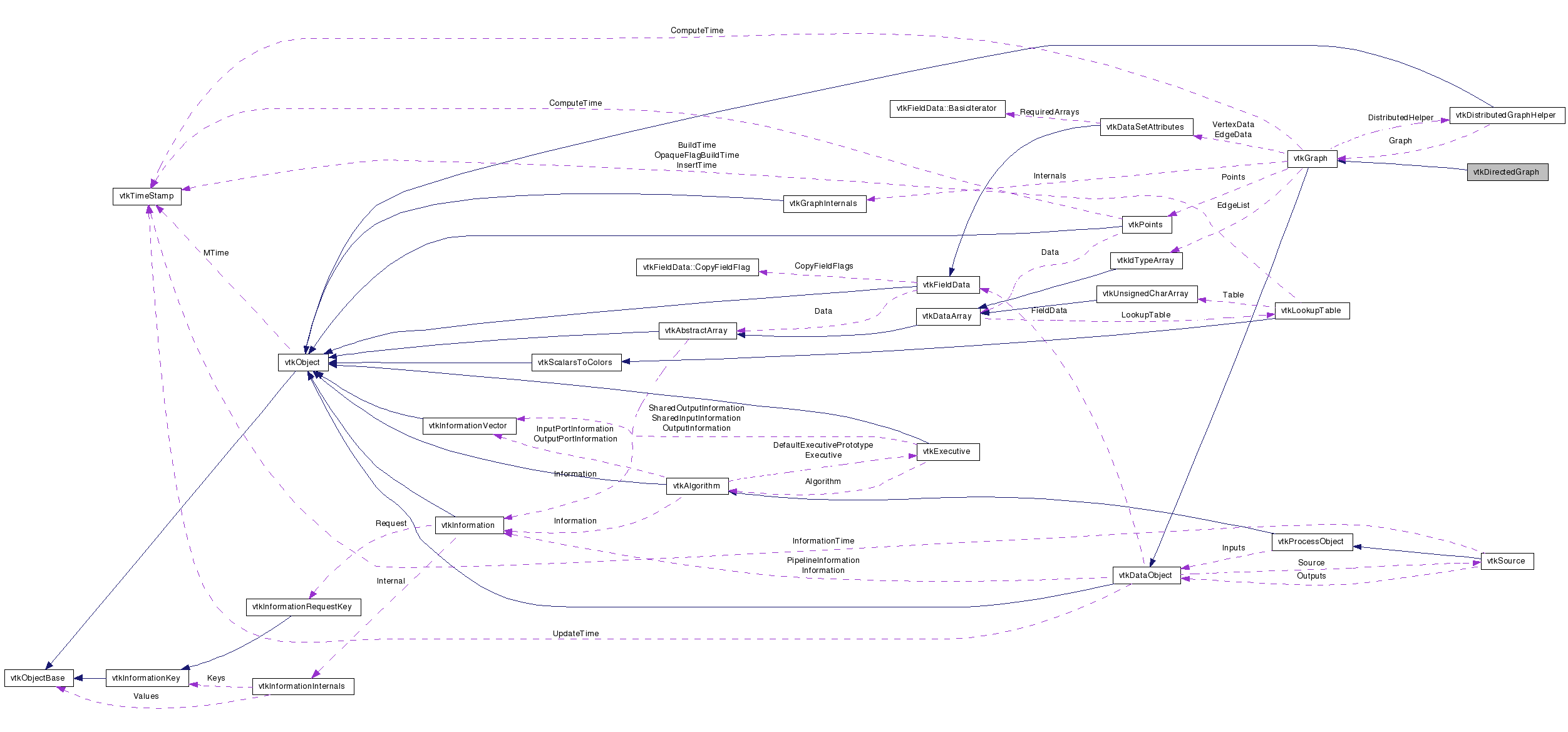 [legend]
---
Detailed Description
A directed graph.
vtkDirectedGraph is a collection of vertices along with a collection of directed edges (edges that have a source and target). ShallowCopy() and DeepCopy() (and CheckedShallowCopy(), CheckedDeepCopy()) accept instances of vtkTree and vtkMutableDirectedGraph.
vtkDirectedGraph is read-only. To create an undirected graph, use an instance of vtkMutableDirectedGraph, then you may set the structure to a vtkDirectedGraph using ShallowCopy().
See also:
Tests:
Including this header allows you to use a vtkDirectedGraph* in
boost
algorithms. To do this, first wrap the class in a vtkDirectedGraph* or vtkUndirectedGraph* depending on whether your graph is directed or undirected. You may then use these objects directly in
boost
graph algorithms.
Definition at line 45 of file vtkDirectedGraph.h.
---
Member Typedef Documentation
---
Constructor & Destructor Documentation
| | | | | |
| --- | --- | --- | --- | --- |
| vtkDirectedGraph::vtkDirectedGraph | ( | | ) | [protected] |
| | | | | |
| --- | --- | --- | --- | --- |
| vtkDirectedGraph::~vtkDirectedGraph | ( | | ) | [protected] |
---
Member Function Documentation
| | | | | |
| --- | --- | --- | --- | --- |
| virtual const char* vtkDirectedGraph::GetClassName | ( | | ) | [virtual] |
| | | | | | |
| --- | --- | --- | --- | --- | --- |
| static int vtkDirectedGraph::IsTypeOf | ( | const char * | name | ) | [static] |
| | | | | | |
| --- | --- | --- | --- | --- | --- |
| virtual int vtkDirectedGraph::IsA | ( | const char * | name | ) | [virtual] |
void vtkDirectedGraph::PrintSelf
(
ostream &
os,
vtkIndent
indent
)
[virtual]
| | | | | |
| --- | --- | --- | --- | --- |
| virtual int vtkDirectedGraph::GetDataObjectType | ( | | ) | [inline, virtual] |
| | | | | | |
| --- | --- | --- | --- | --- | --- |
| virtual bool vtkDirectedGraph::IsStructureValid | ( | vtkGraph * | g | ) | [protected, virtual] |
---
The documentation for this class was generated from the following file: