vtkTreeMapLayoutStrategy Class Reference
#include <vtkTreeMapLayoutStrategy.h>
[legend]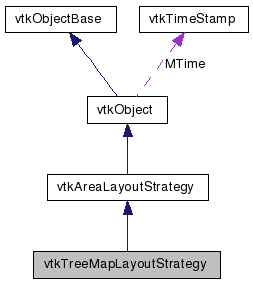 [legend]
---
Detailed Description
abstract superclass for all tree map layout strategies
All subclasses of this class perform a tree map layout on a tree. This involves assigning a rectangular region to each vertex in the tree, and placing that information in a data array with four components per tuple representing (Xmin, Xmax, Ymin, Ymax).
Instances of subclasses of this class may be assigned as the layout strategy to vtkTreeMapLayout
Thanks:

Thanks to Brian Wylie and Ken Moreland from Sandia National Laboratories for help developing this class.
Definition at line 49 of file vtkTreeMapLayoutStrategy.h.
---
Member Typedef Documentation
---
Constructor & Destructor Documentation
| | | | | |
| --- | --- | --- | --- | --- |
| vtkTreeMapLayoutStrategy::vtkTreeMapLayoutStrategy | ( | | ) | [protected] |
| | | | | |
| --- | --- | --- | --- | --- |
| vtkTreeMapLayoutStrategy::~vtkTreeMapLayoutStrategy | ( | | ) | [protected] |
---
Member Function Documentation
| | | | | |
| --- | --- | --- | --- | --- |
| virtual const char* vtkTreeMapLayoutStrategy::GetClassName | ( | | ) | [virtual] |
| | | | | | |
| --- | --- | --- | --- | --- | --- |
| static int vtkTreeMapLayoutStrategy::IsTypeOf | ( | const char * | name | ) | [static] |
| | | | | | |
| --- | --- | --- | --- | --- | --- |
| virtual int vtkTreeMapLayoutStrategy::IsA | ( | const char * | name | ) | [virtual] |
void vtkTreeMapLayoutStrategy::PrintSelf
(
ostream &
os,
vtkIndent
indent
)
[virtual]
| | | | | | |
| --- | --- | --- | --- | --- | --- |
| void vtkTreeMapLayoutStrategy::AddBorder | ( | float * | boxInfo | ) | [protected] |
---
The documentation for this class was generated from the following file: