Main Page
Class Hierarchy
Alphabetical List
Compound List
File List
Compound Members
File Members
Related Pages
---
vtkSimpleImageToImageFilter Class Reference
Generic image filter with one input. More...

#include <vtkSimpleImageToImageFilter.h>

Inheritance diagram for vtkSimpleImageToImageFilter: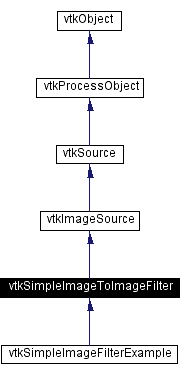 [legend]

Collaboration diagram for vtkSimpleImageToImageFilter:
[legend]
List of all members.
---
Detailed Description
Generic image filter with one input.
Date:

2001/10/11 13:36:37
Revision:

1.8
Thanks:

Thanks to C. Charles Law who developed this class.
vtkSimpleImageToImageFilter is a filter which aims to avoid much of the complexity associated with vtkImageToImageFilter (i.e. support for pieces, multi-threaded operation). If you need to write a simple image-image filter which operates on the whole input, use this as the superclass. The subclass has to provide only an execute method which takes input and output as arguments. Memory allocation is handled in vtkSimpleImageToImageFilter. Also, you are guaranteed to have a valid input in the Execute(input, output) method. By default, this filter requests it's input's whole extent and copies the input's information (spacing, whole extent etc...) to the output. If the output's setup is different (for example, if it performs some sort of sub-sampling), ExecuteInformation has to be overwritten. As an example of how this can be done, you can look at vtkImageShrink3D::ExecuteInformation. For a complete example which uses templates to support generic data types, see vtkSimpleFilterExample.

Definition at line 73 of file vtkSimpleImageToImageFilter.h.
---
Constructor & Destructor Documentation
| | | | | |
| --- | --- | --- | --- | --- |
| vtkSimpleImageToImageFilter::vtkSimpleImageToImageFilter | ( | | ) | [protected] |
| | | | | |
| --- | --- | --- | --- | --- |
| vtkSimpleImageToImageFilter::~vtkSimpleImageToImageFilter | ( | | ) | [protected] |
---
Member Function Documentation
| | | | | |
| --- | --- | --- | --- | --- |
| virtual const char* vtkSimpleImageToImageFilter::GetClassName | ( | | ) | [virtual] |
| | | | | | |
| --- | --- | --- | --- | --- | --- |
| int vtkSimpleImageToImageFilter::IsTypeOf | ( | const char * | type | ) | [static] |
| | | | | | |
| --- | --- | --- | --- | --- | --- |
| virtual int vtkSimpleImageToImageFilter::IsA | ( | const char * | type | ) | [virtual] |
| | | | | | |
| --- | --- | --- | --- | --- | --- |
| vtkSimpleImageToImageFilter* vtkSimpleImageToImageFilter::SafeDownCast | ( | vtkObject * | o | ) | [static] |
| | | | | | |
| --- | --- | --- | --- | --- | --- |
| virtual void vtkSimpleImageToImageFilter::SetInput | ( | vtkImageData * | input | ) | [virtual] |
| | |
| --- | --- |
| | Set the Input of a filter. |
| | |
| --- | --- |
| | Set the Input of a filter. |
| | | | | |
| --- | --- | --- | --- | --- |
| virtual void vtkSimpleImageToImageFilter::ExecuteInformation | ( | | ) | [protected, virtual] |
virtual void vtkSimpleImageToImageFilter::ComputeInputUpdateExtent
(
int
inExt[6],
int
outExt[6]
)
[protected, virtual]
| | | | | | |
| --- | --- | --- | --- | --- | --- |
| virtual void vtkSimpleImageToImageFilter::ExecuteData | ( | vtkDataObject * | output | ) | [protected, virtual] |
virtual void vtkSimpleImageToImageFilter::SimpleExecute
(
vtkImageData *
input,
vtkImageData *
output
)
[protected, pure virtual]
---
The documentation for this class was generated from the following file:
---
Generated on Thu Mar 28 14:42:37 2002 for VTK by

1.2.11.1 written by Dimitri van Heesch, © 1997-2001